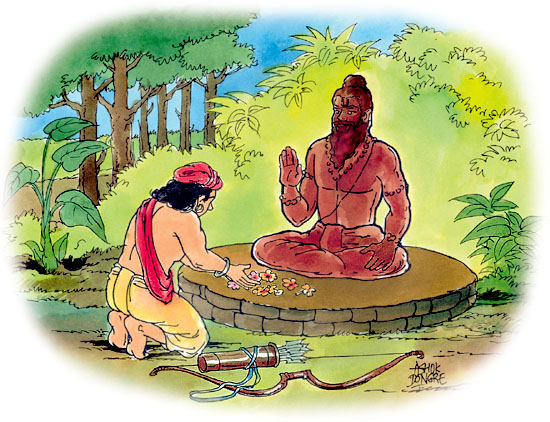 This is a story I really like.I employ it when conducting introductory sessions on Knowledge Management. I use it to bring out how one can learn if one has the desire. But the other day, one of the participants asked me a question that set me wondering. So here is the story followed by the question.
This story is from the ancient Mahabharatha (Hindu Scripture). It is the story of a boy 'Eklavya' and Archery Guru (Master) 'Dronacharya'. Eklaviya was born to an underprivileged family and as tradition would have it, the social norms in those days did not allow for him to be accepted by the Guru as his student.
So, rather than becoming disillusioned, Eklaviya, who stayed in an isolated part of the forest, carved out a statue of the great Guru. After paying his respects to the statue every day, Eklaviya diligently practiced his archery skills for hours on end. He imagined the great Dronacharya himself instructing him and acted accordingly. He soon became good at what he was doing and in time achieved mastery. This was happening in an isolated portion of the forest away from the gaze of everyone. One day Eklaviya skilfully shot an arrow through the mouth of a dog to silence its barking- without causing it pain. Dronacharya happened to see this dog and understood that the archer must indeed be a master. It was then that Eklaviya was brought before him. Eklaviya showed Dronacharya the statue and explained how he drew inspiration from the Master daily. He credited the Guru with his learning.
I believe the wisdom contained in the narrative so far is profound. Organizations have hidden Eklaviya's. These are employees passionate about attaining mastery over their work- but who may not have the share of voice to attract the resources they need. So they toil on regardless, driven by the goal to become better every day and in time achieve mastery.
(And there are also a set of privileged employees who get to attend a lot of coaching opportunities but continue with mediocre performances). Knowledge Management programs need to uncover the hidden 'Eklaviya's in the organization.
When I narrated this story to a group of executives recently, one of them argued that it is not possible in today's context to achieve mastery like Eklaviya did without a guide. I have my views on this but would like to hear from you. What do you think? Is it possible to achieve mastery without direct supervision?
In the next blog the Eklavya story will continue. It now takes a tragic turn. It holds some more lessons for Knowledge Management. Meanwhile send me your views on the story so far!